Berikoy Team Attended ATC Conference
Ayrıntılar

Üst Kategori: ROOT
Kategori: Habitat News
Berikoy Team Attended ATC Conference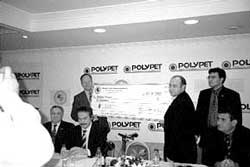 Tracy Lavin, Special to The Turkish Times-Beriköy Team members attended the American Turkish Conference in Washington, D.C. to host a workshop on sustainability with guest panelists: MIT Professor Jan Wampler; Director of Habitat for Humanity International, Tom Jones, and Owner of First Renaissance Ventures, Martin Erim. The conference coverage was hugely successful and prosperous and a thank you is owed to ATC's generous booth and workshop contribution. Additionally, Naci Saribas, Minister Counselor, Turkish Deputy Chief of Mission, is held in high esteem for his professionalism, but also his heart for Beriköy and we are gracious for his support.
You may have recently read or heard about "Beriköy: Communities Building Communities" sustainability project in Turkey. Beriköy addresses long-term sustainability in Economic, Social and Ecologic avenues and is a partnered in part by Habitat for Humanity International and CEKUL Vakfi. Beriköy was developed through Massachusetts Institute of Technology Professor Jan Wampler and students yearlong architectural workshop, which started shortly after the earthquakes in August of 1999.
Beriköy went on the road immediately following ATC with Mr. Martin Erim and Ms. Muzeyyen Akdeniz of First Renaissance Ventures, as they organized and developed Beriköy's participation in the Department of Commerce "Trade Opportunities in Turkey" conference. Beriköy was honored by a warm introduction from Mr. John Breidenstein, the Foreign Commercials Director at the US Embassy in Ankara.
Beriköy continues with its fundraising efforts and successes. Recently the Federation of Turkish American Associations became a project sponsor by donating a home for one Beriköy family. FTAA recognizes the vision of Beriköy and serves as a leading example for organizations and individuals to also sign onto Beriköy.